Hello Fellow Readers,
Hello New Followers!
I had a lazy weekend – too lazy. The heatwave finally stopped, and I can't believe I am saying this, I was happy to see the rain again in London. I curled up on my reading chair, with the sound of rain in background and a book. Perfect way to spend the weekend.
Except, I am super struggling with my current read – The Invisible Life of Addie LaRue. Yep, the most awaited book of the galaxy is killing me. I almost gave up and marked it as DNF, but I thought I should get to the bottom of this story, see where it goes, or if it goes anywhere. At the moment, it doesn't.
I guess, I will not post a review of V.E. Schwab's next work, and I need a break from it. Instead, I thought I'd make a list of all the sequels coming out this month. So, if you have a book journal, a list of all the series you are reading, pick up a pen!
Court of Lions (Mirage #2) – Somaiya Daud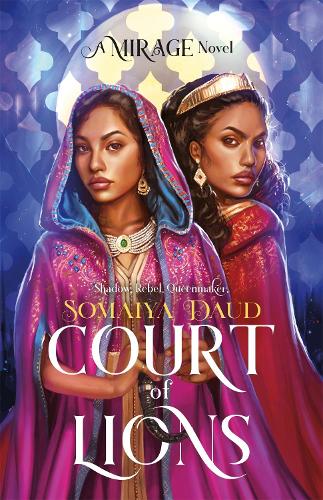 Two identical girls, one a princess, the other a rebel. Who will rule the empire?
After being swept up into the brutal Vathek court, Amani, the ordinary girl forced to serve as the half-Vathek princess's body double, has been forced into complete isolation. The cruel but complex princess, Maram, with whom Amani had cultivated a tenuous friendship, discovered Amani's connection to the rebellion and has forced her into silence, and if Amani crosses Maram once more, her identity – and her betrayal – will be revealed to everyone in the court.
Amani is desperate to continue helping the rebellion, to fight for her people's freedom. But she must make a devastating decision: will she step aside, and watch her people suffer, or continue to aid them, and put herself and her family in mortal danger? And whatever she chooses, can she bear to remain separated, forever, from Maram's fiancé, Idris?
Amani has to choose between revolution and family, in the sequel of the Sunday Times best seller Mirage. Court of Lions is out in the US and the UK on 6 August. P.S.: why does the cover of the sequel differ from the first book?? Don't you hate it when this happens?
Igniting Darkness (Courting Darkness Duology) – Robin LaFevers
When you count Death as a friend, who can stand as your enemy?
Sybella, novitiate of the convent of Saint Mortain and Death's vengeance on earth, is still reeling from her God's own passing, and along with him a guiding hand in her bloody work. But with her sisters on the run from their evil brother and under the watchful eye of her one true friend (and love) at court, the soldier known as Beast, Sybella stands alone as the Duchess of Brittany's protector.
After months of seeking her out, Sybella has finally made contact with a fellow novitiate of the convent, Genevieve, a mole in the French court. But when Genevieve mistakenly draws the attention of the French king to the convent of Saint Mortain and its deadly arts, she may do her sisters (and herself) more harm than good. Sybella, having already drawn the ire of the French regent, may not be able to depend on her sister and ally as much as she hoped. Still, Death always finds a way, even if it's not what one expects.
No one can be trusted and the wolves are always waiting in this thrilling conclusion to the Courting Darkness duology, set in the world of Robin's beloved His Fair Assassins trilogy.
I recently picked up the original series – His Fair Assassin – I read the first book. I loved it and I can't wait to read this duology as well. If you like historical fantasy and adventure, you can't miss this one. Out on 4 August in the US and 6 August in the UK. Also, that cover!
Vicious Spirits (Gumiho #2) – Kat Cho
As Vicious Spirits begins, Miyoung and Jihoon are picking up the pieces of their broken lives following the deaths of Miyoung's mother, Yena, and Jihoon's grandmother. With the support of their friend Somin, and their frenemy, Junu, they might just have a shot at normalcy. But Miyoung is getting sicker and sicker by the day and her friends don't know how to save her.
With few options remaining, Junu has an idea but it might require the ultimate sacrifice and, let's be honest, Junu isn't known for his "generosity." Meanwhile, the events at the end of Wicked Fox have upended the forces that govern life and death and there are supernatural entities lurking in the background that will stop at nothing to right their world.
The sequel of Wicked Fox, the fantasy-romance story that takes place in modern day Seoul is out both in the US and the UK on 18 August.
and finally…
The Faithless Hawk (The Merciful Crow #2) – Margaret Owen
As the new chieftain of the Crows, Fie knows better than to expect a royal to keep his word. Still she's hopeful that Prince Jasimir will fulfill his oath to protect her fellow Crows. But then black smoke fills the sky, signaling the death of King Surimir and the beginning of Queen Rhusana's merciless bid for the throne.
With the witch queen using the deadly plague to unite the nation of Sabor against Crows—and add numbers to her monstrous army—Fie and her band are forced to go into hiding, leaving the country to be ravaged by the plague. However, they're all running out of time before the Crows starve in exile and Sabor is lost forever.
A desperate Fie calls on old allies to help take Rhusana down from within her own walls. But inside the royal palace, the only difference between a conqueror and a thief is an army. To survive, Fie must unravel not only Rhusana's plot, but ancient secrets of the Crows—secrets that could save her people, or set the world ablaze.
I know this duology has conquered the hearts of many YA fantasy readers. If you are looking for complex magic systems, you need to check out The Merciful Crow. Out in the US on 18 August.
Have a lovely weekend!